Frank Buono - Baltimore's Most Amazing Magician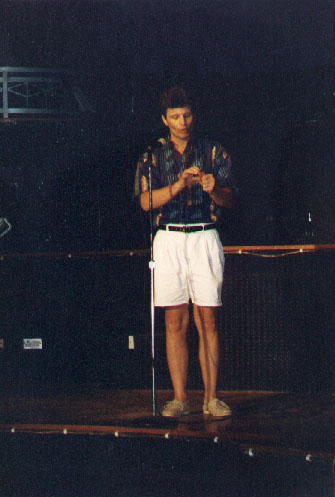 From an impromptu performance at a resort in Jamacia (see photo) to performing as a close-up magician for a corporate client, Frank loves to entertain.
He began performing magic professionally in 1990 at a convalescent center with a small show, and now:
Frank does corporate shows
Frank does family shows
Frank does kids shows
Testimonials:
"[A] talented magician who demonstrates great skills and a warm friendly personality." - T.G.I. Friday's
"You were a hit!" - Northrop Grumman
"Frank has proven to be a great sales building tool." - T.G.I.F.

Satisfied Clients:
AEtna US Healthcare - Photos...
Arbutus Town Hall
Arc of Howard County - Photos...
Argyle Country Club
B2eMarkets, Inc.
Baltimore Convention Center - Photo...
Beltsville Lions Club
Cattail Creek Country Club
Ceresville Mansion
Charles Carroll House
Chestnut Ridge Country Club
Clydes, Alexandria
Clydes, Columbia
Comfort Link
ConAgra
Corporate Press
CS&H/First Union Insurance
Discovery Channel Retail - Photo...
Don Pablos
Domestic Violence Center - Howard Co.
eMERGE, Inc.
Engineers Club
Ernst & Young
E.W. Beck's
Golden Bull Restaurant, Gaithersburg
Hands Across the Americas, Inc.
Henggeler Computer Consultants, Inc.
Historic Oakland Mansion
Holiday Inn, Chevy Chase
Holiday Inn, Timonium
Holly Hills Country Club - Photo...
Home Properties of NY
Hospice Services of Howard County
Hospice Cup Regatta - Celebrity Photo...
International Home Foods - Photos...
Irish Pizza Pub
Johns Hopkins Children's Center - Photo...
Keller Williams Realty of Ellicott City
Kossiakoff Center - Photos...
Lake Linganore Association
Laurel Marketing & Design
Loyola College
Magic Cue
Magic of New Orleans
MD Dep't of Budget & Mgmt - TAM
Marriott Baltimore Waterfront Hotel
Martin's West
Medaphis Corporation
Millennium Health Services
Nat'l Association of Insurance Women
New York Palace
Northrop Grumman
Olive Leaf Cafe
Pier 5 Hotel
Pizza Hut of Maryland
Ritz Carlton, Wash. D.C.
Romano's Macaroni Grill
Senator Theatre
Senex Services Corporation - Photos...
Sheraton National Hotel, Arlington
Silver Diner
Smith Barney
St. Mary's Schools
State Farm Insurance
Sunrise Assisted Living
TAMKO Roofing Products
Ten Oaks Ballroom
T.G.I. Friday's
The Traders' Library
Tully's
Woodmont Country Club Return Home